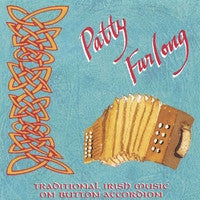 oss
Traditional Irish Music On Button Accordion - Patty Furlong
Patty Furlong has won numerous New York championships as well as 3 All-Ireland titles, including one solo title.
She has played with the world renowned group "The Chieftains" during their 1995 tour.

Patty, an original member of Cherish the Ladies is known to play the ceili circuit throughout the Tri-state NY area, enjoys playing concerts throughout the U.S.

with Zan McLeod on guitar and bouzouki
1. Tumbledown / The White Petticoat - Jigs

 

 

 

3:09

 

 

2. Brenda Stubbert's / The North Side / Alice's - Reels

 

 

 

3:26

 

 

 

3. Charlie Mulvihill's / Eugene Stratton's - Hornpipes

 

 

 

3:06

 

 

4. Golden Legs / Harry Bradshore's -Reels

 

 

 

3:20

 

 

5. Caherlistrane /Castletown Conors/ Fasten the Leg On Her - Jigs

 

 

 

3:20

 

 

 

6. Blue Eyed Rascal - Set Dance

 

 

 

3:24

 

 

7. Micky Quinn's / Humors of Ballingarry / Rakes of Clonmel - Jigs

 

 

 

3:38

 

 

8. Man of the House / Kiernan Kelly's / Brendan McManus - Reels

 

 

 

3:04

 

 

9. Killavil / Paddy Fahy's - Jigs

 

 

 

2:36

 

 

10. Nell Fee's / I'll Buy Boots for Maggie - Polkas

 

 

 

2:53

 

 

11. Munster Grass / Coey's - Hornpipes

 

 

 

3:11

 

 

12. Snow Capped Mountain / Mist Covered Mountain - Air / Jig

 

 

 

4:17

 

 

 

13. The House on the Hill / PJ McComisky's - Reels

 

 

 

3:12
---
Share this Product
---
More from this collection