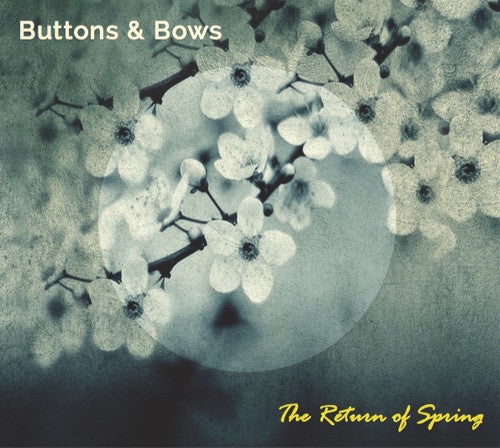 MMcG
The Return Of Spring - Buttons & Bows
Jackie Daly (accordion)
Seamus McGuire (fiddle, viola)
Manus McGuire (fiddle)
Garry O'Briain (mandocello, guitar, piano)
Tracks:
Oyster Island

The Buttons And Bows


The Lark In The Blue Summer Sky
The Prohibition
The Contradiction


Gan Ainm

Fort Dunree

Sweet Aibhilin

An Fuiseogin Dearg

The Templeglantine


The Tipperary Boys

An Ceo Draiochta




The Stafford Dance

The Brosna


Hughie Doherty's

The Purring Village Ladies


The Plough And The Stars
The Dairy Maid
When Buttons and Bows first landed on the Irish music scene in 1983, a new splash of colour was thrown into the mix. Decades later, the band's repertoire still raises a smile at traditional music sessions in every corner of the globe. And it still sounds fresh, flamboyant and a bit different. 
This influential foursome - made up of Jackie Daly, Séamus and Manus McGuire and Garry O'Briain - began its days with sessions in Kinvara, Co Galway, fuelled by a shared taste for musical adventure. 
Their individual journeys had already brought them to Scandanavia, Shetland, and North America, places which yielded rich pickings of musical influences and ideas. Seamus and Garry had both lived in Eastern Canada and brought home an exciting new repertoire of tunes, many of which had crossed the Atlantic in the hearts and minds of Irish and Scottish emigrants. 
With their roots firmly planted in their beloved Irish traditional music, Buttons & Bows was ready to experiment with graceful Quebecois waltzes, lively Danish quadrilles and achingly beautiful Shetland airs. Barriers were broken, energy and humour abounded, jigs and reels were given a new dusting of magic.  
Because of the band's connection with the folk music of Canada, they were invited to perform as the opening act at the 1983 world premiere of The Brendan Voyage (composed by Shaun Davey and performed by Liam O'Flynn and the RTE Symphony orchestra) at the National Concert Hall, Dublin.  
Three critically-acclaimed albums followed - Buttons & Bows, The First Month of Summer, and Gracenotes. Tours of the US and Canada were received enthusiastically by critics and audiences. Their music was featured in the Disney/Touchstone film, "The Good Mother"(1988) starring Liam Neeson and Diane Keaton. The Wall Street journal described their music as "polished and exuberant". Music archivist Jackie Small spoke of the band's "happy juxtaposition of many different moods, from relaxed and mellifluous to biting and humorous".
---
Share this Product